Our 2016 AU$25.00 Christmas Gift to You!
…still available until 31st January 2017.
To all our wonderful customers and subscribers, thanks so much for having shared 2016 with us.
We truly appreciated your trust and support during that year, and responded with a Christmas gift – a AU$25.00 gift coupon.
This coupon can still be redeemed up until the 31st January 2017.
Ideas for Redeeming the Coupon
Use it to offset the cost of anything from our office, clinic or online shop – including advertised specials and promotions. For example:
• Order one vial of pills – completely free.
• Purchase one Complex for only AU$1.95.
• Reduce the total price of any larger purchase from our office or online shop.
• Offset delivery costs.
• Reduce the consult fee of your next homeopathy appointment.
As an existing customer or subscriber, this gift is ONLY for you. It is not being offered to passing website visitors.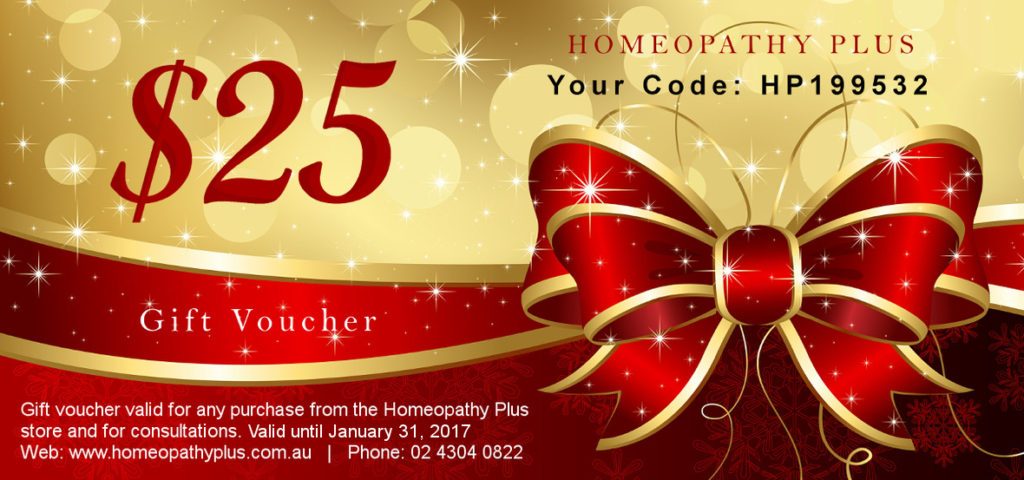 How to Redeem the Coupon
At the online checkout and under the 'Voucher' heading, just enter the "HP199532" into the box provided and click the 'Update Cart' tab.
AU$25.00 will be automatically deducted from the total purchase price for you – it's that simple.
The coupon or voucher can also be redeemed at our office or clinic, by phone or in person.
Onwards into 2017
May it be a year of growth, wisdom, and kindness for all of us.
---
Sign up for Our Newsletter!
If you liked the information on this page you may also enjoy our free weekly newsletter, full of world news on homeopathy. Subscribe to it at: http://mad.ly/signups/46424/join.
Note: All information we provide and comments we make are from the homeopathic perspective. They are not necessarily endorsed by sectors of some governments, medico-pharmaceutical groups, "skeptic" organisations or those unfamiliar with homeopathy. Comments, references or links posted by others on this page may not reflect the opinion of Homeopathy Plus and so should not be seen as an endorsement or recommendation by Homeopathy Plus. Please see a trusted healthcare practitioner for advice on health problems. Further information about the purpose of our material may be read in our disclaimer.