Offer 3: Save $4.50 On Zeolite Powder with Fulvic/Humic Acid Complex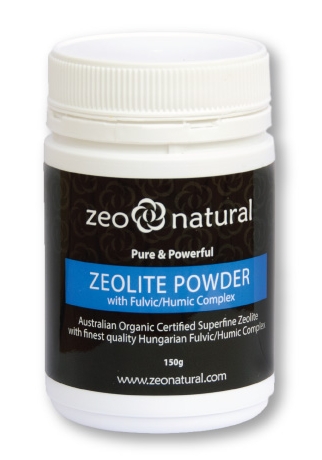 (Each week we run three significant specials with our news in our weekday and/or weekly newsletters. To be notified of them, subscribe at Homeopathy Plus – News and Quick-bits.)
Until midnight on Monday, 18th October, 2021
(UTC/GMT -8 hours), save $4.50 on superfine, pure Australian Zeolite.
Contains 100% pure and powerful Australian superfine zeolite powder with added fulvic acid and humic acid.
The combination of Australian zeolite and fulvic/humic complex is a dynamic detoxifying mineral blend.
Reason for this Blend
Fulvic and Humic Acid
Humic substances (fulvic acid and humic acid) have many health benefits as they help to:
restore electrical conductivity in the body
aid cellular respiration
increase energy
inhibit the growth of many viruses including HIV, herpes and influenza
detoxify pollutants
enhance and transport nutrients
Organic Superfine Zeolite
Zeolite powder is used worldwide as a safe detoxifying mineral for a wide range of heavy metals, bacteria, viruses and toxins.
As it travels through the gastrointestinal tract it collects and binds heavy metal ions and other toxins on the way.
At the same time zeolite can also bind bacteria onto its surface while bacterial spores, viruses and some microbial toxins are trapped within its structure.
The bound toxic matter is then eliminated in the faeces with the zeolite powder.
Zeo Natural's pure and powerful Australian superfine zeolite powder (clinoptilolite) is the finest micron size available on the market.
ZeoNatural Superfine Organic Zeolite Powder normally retails for $45.00 but, until midnight, Monday 18th October, 2021, (UTC/GMT -8 hours), 150gm tubs are available for just $40.50 each. Save $4.50 per tub. (Contains 30 – 60 doses, depending on usage.)
Three Ways to Order
1. Place your order online. Standard shipping is just $10.95 to anywhere in the world while a free shipping option applies for orders over $85.00. Cryptocurrency payments accepted. Free "click and collect" is available from our clinic for orders placed before 12 midday on the same day.
2. Order over the phone by calling us on (+61 2) 4304 0822 – we'd love to help you.
3. Purchase directly from our clinic and office at 7b / 1 Pioneer Avenue, Tuggerah NSW 2259, Australia. (When you phone and pay for your order ahead of time, we'll have it ready, waiting for you.)
This offer ends at midnight on Monday, 18th October, 2021
(UTC/GMT -8 hours).
(Each week we run three significant specials with our news in our weekday and/or weekly newsletters. To be notified of them, subscribe at Homeopathy Plus – News and Quick-bits.)
---
If you liked the information on this page you may also enjoy our regular newsletter, full of information, news, discounts, and offers. Subscribe here.
$i;?>
No Comments »
Comments are moderated and may take up to 24 hours to appear.
No comments yet.
Leave a comment
You must be logged in to post a comment.