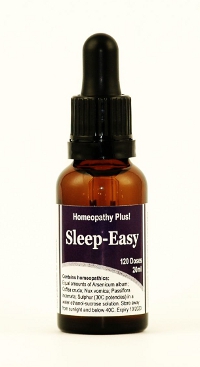 Contains remedies commonly used to reduce the symptoms of sleeplessness or frequent waking.
Instructions
Shake the bottle. Place approximately 5 drops in the mouth. Take a dose once a day until sleep improves, and then dose only as needed. If there is no change at all by 4 doses, stop and contact your practitioner for assistance.
Contains homeopathics:
Equal amounts of Arsenicum album; Coffea cruda; Nux vomica; Passiflora incarnata; Sulphur (30C potencies) in a water-ethanol-sucrose solution. Each bottle contains 120 doses. Store away from sunlight and below 40C. Expiry 10/2020.
Tags: practitioner, sleep, Sleep Easy Complex, sleeplessness, symptoms
---
If you liked the information on this page you may also enjoy our regular newsletter, full of information, news, discounts, and offers. Subscribe here.
Note: All information we provide and comments we make are from the homeopathic perspective. They are not necessarily endorsed by sectors of some governments, medico-pharmaceutical groups, "skeptic" organisations or those unfamiliar with homeopathy. Comments, references or links posted by others on this page may not reflect the opinion of Homeopathy Plus and so should not be seen as an endorsement or recommendation by Homeopathy Plus. Please see a trusted healthcare practitioner for advice on health problems. Further information about the purpose of our material may be read in our disclaimer.