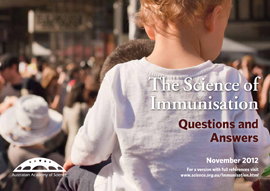 The vaccination debate is a volatile topic with important health implications.
It often polarises people, and ends up being anything but a debate. It can be difficult to examine the opposing points of view, side by side.
But in one small area of the internet, that has changed.
In November, 2012, the Australian Academy of Science released a pro-vaccine booklet called The Science of Vaccination: Questions and Answers.
In response, a pro-choice group, the Australian Vaccine Network (AVN) released a series of critiques on its No Compulsory Vaccination blog.
What is significant is that a real debate was then ignited in the comments section following each critique (and you can still join in – just keep your claims referenced and your comments respectful).
In this and coming newsletters we will carry links to The Science of Vaccination Booklet and the AVN's critiques so that both views are presented.
And for those who want information on the homeopathic option, we will link to the prophylaxis articles we carry.
So let the debate continue!
To read The Science of Vaccination: Questions and Answers, click here:Australian Academy of Science
To read the first critique, Vaccination Does Not Equal Immunisation, click here:AVN's No Compulsory Vaccination Blog
To read about the homeopathic option, click here: What Are Homeopathic Prophylactics?
And as always, nothing comes from nothing. The Academy of Science welcomes donations to continue their work as does the volunteer-run organisation, the Australian Vaccination Network.
Donations to the AVN can be made at: http://shop.avn.org.au/categories/Donations/
To donate to the Australian Academy of Science, please make enquiries at their website: http://science.org.au/
---
Sign up for Our Newsletter!
If you liked the information on this page you may also enjoy our free weekly newsletter, full of world news on homeopathy. Subscribe to it at: http://mad.ly/signups/46424/join.
Note: All information we provide and comments we make are from the homeopathic perspective. They are not necessarily endorsed by sectors of some governments, medico-pharmaceutical groups, "skeptic" organisations or those unfamiliar with homeopathy. Comments, references or links posted by others on this page may not reflect the opinion of Homeopathy Plus and so should not be seen as an endorsement or recommendation by Homeopathy Plus. Please see a trusted healthcare practitioner for advice on health problems. Further information about the purpose of our material may be read in our disclaimer.