Ainsworth 42 Essential Remedy Kit Instructions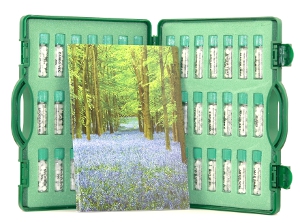 More Information
Ainsworth 42 Essential Remedy Kit
This sturdy kit is small enough to carry in your handbag, glovebox or travel bag, but versatile enough to deal with common problems that happen in the home or when travelling.
It comes with a 72-page booklet with clear and easy-to-follow instructions to help you find the right remedy quickly.
Contains 42 key remedies commonly used to treat: Anxiety, Arthritic & Rheumatic Pain, Abscesses, Bites and Stings, Boils and Abscesses, Back, Burns, Chickenpox, Cold Sores, Colds, Constipation, Coughs, Cystitis, Diarrhoea, Earache, Fear, Fever, Grief, Hangover, Hayfever, Headaches, Indigestion, Influenza, Injuries, Measles, Morning sickness, Mumps, Nausea, Nosebleeds, Period Pains, Puncture wounds, Pregnancy Sickness, Sciatica, Shingles, Sinusitis, Sleep, Sore Throat, Sprains, Teething, Toothache, Travel Sickness
Remedies included in the kit: 1. Aconite; 2. Allium Cepa; 3. Ant Tart; 4. Apis Mel; 5. Argent Nit; 6. Arnica; 7. Arsen Alb; 8. Belladonna; 9. Bryonia; 10. Calc Carb; 11. Calendula; 12. Cantharis; 13. Carbo Veg; 14. Chamomilla; 15. China; 16. Cocculus; 17. Drosera; 18. Euphrasia; 19. Ferrum Phos; 20. Gelsemium; 21. Hepar Sulph; 22. Hypericum; 23. Ignatia; 24. Ipecac; 25. Kali Bich; 26. Lachesis; 27. Ledum; 28. Lycopodium; 29. Mag Phos; 30. Merc sol; 31. Mixed Pollens; 32. Nat Mur; 33. Nux Vom; 34. Passiflora Co; 35. Phosphorus; 36. Pulsatilla; 37. Rhus Tox; 38. Ruta; 39. Sepia; 40. Silica; 41. Staphisagria; 42. Sulphur
---
Sign up for Our Newsletter!
If you liked the information on this page you may also enjoy our free weekly newsletter, full of world news on homeopathy. Subscribe to it at: http://mad.ly/signups/46424/join.
Note: All information we provide and comments we make are from the homeopathic perspective. They are not necessarily endorsed by sectors of some governments, medico-pharmaceutical groups, "skeptic" organisations or those unfamiliar with homeopathy. Comments, references or links posted by others on this page may not reflect the opinion of Homeopathy Plus and so should not be seen as an endorsement or recommendation by Homeopathy Plus. Please see a trusted healthcare practitioner for advice on health problems. Further information about the purpose of our material may be read in our disclaimer.