Basic 18 Kit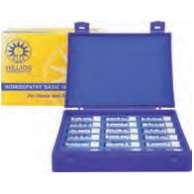 Strong, lightweight and compact the 18 remedy kit covers many common self-help ailments and minor injuries for all the family.

Remedies: Aconite, Apis, Arnica, Arsenicum, Belladonna, Bryonia, Cantharis, Chamomilla, Gelsemium, Hypericum, Ignatia, Ledum, Mercurius, Nux vom, Pulsatilla, Rhus tox, Ruta and Silica.
(Approx. 35 doses per remedy).

Special Price – $64.90

(Normally $74.90)

More information here



Essential Remedy Kit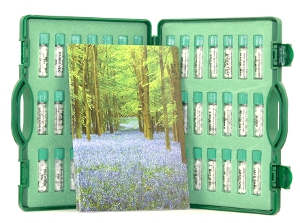 The Essential Remedy Kit contains 42 remedies in 30c potency in 2g vials (approx 35 doses per vial).The remedies are made with sucrose pills. The kit comes in a beautiful dark green plastic box with sturdy hinges and includes a 72 page instruction booklet.

Price – $152.50 AU

More information here
Traveller Kit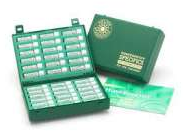 This light-weight, compact kit contains 36 remedies that deal with most of the common ailments and injuries faced by the frequent or not-so-frequent traveller.

Compact prescriber booklet included within kit

A prescriber booklet fits within the kit and covers more than 120 conditions including burns, dehydration, disease outbreaks, earache, food poisoning, homesickness, head injuries, jellyfish stings, snow blindness, toothache and much, much more.

Price – $108.50AU
First Aid Kit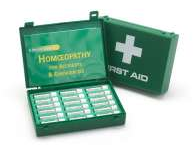 This strong, lightweight and compact kit is a handy and inexpensive addition to your home medicine cabinet, handbag, glovebox or travel bag. It's designed for simple first-aid problems and more serious emergencies when the first responder is waiting for further help.

All remedies are suitable for use from infancy to old age, and during pregnancy.
Mother and Child Kit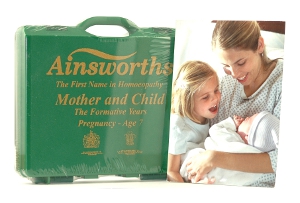 The Mother and Child kit covers pregnancy, childbirth and the childs first years. The Kit contains 42 remedies in 30c and 200c potency in 2g vials (approx 35 doses per vial). The remedies are made with sucrose pills. The kit comes in a beautiful dark green plastic box with sturdy hinges and includes an easy to use self-help instruction book.

Price – $152.50AU (normally $152.50)
Pet Kit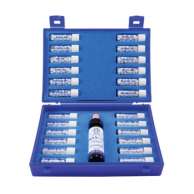 Strong, lightweight and compact, the Pet Kit Covers a wide range of minor ailments and first aid situations for all your animals. The kit contains 24 homeopathic remedies, plus the liquid SOeSsence® Flower Formula for emergencies. The kit comes with a free booklet that introduces you to homeopathy for your pets and features an A-Z of complaints and a materia medica section describing the traditional uses of the remedies. Remedies: Aconite, Arnica, Apis, Aconite/Arsenicum/Argent-nit., Arsenicum Belladonna, Bryonia, Cantharis, Cocculus, Drosera, Euphrasia, Gelsemium, Hypericum/Calendula, Hepar Sulp, Ignatia, Ipecacuanha, Merc-corr, Ledum, Nux Vomica, Pulsatilla, Rhus/Ruta, Silica, Sulphur, Symphytum. 10ml Helios SOeSsence® Flower Formula. All remedies are in 30c potency. (Approx. 35 doses per remedy.)

Price – $75.50AU
Basic 36 Remedy Kit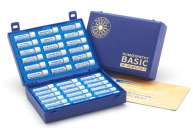 This strong, lightweight and compact kit contains 36 remedies covering a variety of common ailments and minor injuries for the the whole family.Remedies: Aconite, Ant tart, Apis, Arg-nit, Arnica, Arsenicum, Belladonna, Bryonia, Calc carb, Calendula, Cantharis, Carbo veg, Chamomilla, China, Drosera, Gelsemium, Hepar sulph, Hypericum, Ignatia, Ipecac, Kali bich, Lachesis, Ledum, Lycopodium, Mag phos, Mercurius, Natrum mur, Nux vom, Phosphorus, Pulsatilla, Rhus tox, Ruta, Sepia, Silica, Staphisagria, Sulphur, all 30C (Approx. 35 doses per remedy).

Price – $108.50
Childbirth Kit
This strong, lightweight and compact kit contains 18 safe, gentle and effective remedies for use before, during and after labour.Remedies: Aconite, Arnica, Bellis-p, Calendula, Carbo veg, Caulophyllum, Chamomilla, Cimicifuga, Gelsemium, Hypericum, Ipecac, Kali-carb, Kali-ph, Phytolacca, Pulsatilla, Secale, Sepia and Staphisagria, all 200C. (Approx 35 doses per remedy).


Price – $78.00
20ml Bottles
20ml bottles with rubber tops. Ideal for storing homeopathic remedies.
---
Sign up for Our Newsletter!
If you liked the information on this page you may also enjoy our free weekly newsletter, full of world news on homeopathy. Subscribe to it at: http://mad.ly/signups/46424/join.
Note: All information we provide and comments we make are from the homeopathic perspective. They are not necessarily endorsed by sectors of some governments, medico-pharmaceutical groups, "skeptic" organisations or those unfamiliar with homeopathy. Comments, references or links posted by others on this page may not reflect the opinion of Homeopathy Plus and so should not be seen as an endorsement or recommendation by Homeopathy Plus. Please see a trusted healthcare practitioner for advice on health problems. Further information about the purpose of our material may be read in our disclaimer.