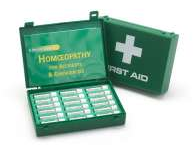 This strong, lightweight and compact kit is a handy and inexpensive addition to your home medicine cabinet, handbag, glovebox or travel bag. It's designed for simple first-aid problems and more serious emergencies when the first responder is waiting for further help.
Each kit also comes with a handy prescriber booklet to help you choose the best remedy for numerous conditions such as: abdominal pain; allergic reactions; bleeding; bites and stings; fractures; bruises; burns; chest pain; choking; collapse; concussion; diarrhoea and vomiting; near-drowning; convulsions; emergency childbirth and miscarriage; chilling and hypothermia; fainting; fever; headache; heat stroke; injuries and wounds; poisoning; shock and distress; splinters and foreign bodies; sprains and strains; sunburn; stroke; whiplash; and more.
The kit contains 18 homeopathic remedies traditionally used in first-aid and emergency situations: Aconite, Apis, Arnica, Arsenicum, Belladonna, Bellis perennis, Bryonia, Calendula, Cantharis, Carbo-veg, China, Gelsemium, Hypericum, Ignatia, Ipecacuahna, Phosphorus, Pulsatilla, and Silica (all in 200C potencies with approx. 35 doses per remedy).
All remedies are suitable for use from infancy to old age, and during pregnancy.
---
Sign up for Our Newsletter!
If you liked the information on this page you may also enjoy our free weekly newsletter, full of world news on homeopathy. Subscribe to it at: http://mad.ly/signups/46424/join.
Note: All information we provide and comments we make are from the homeopathic perspective. They are not necessarily endorsed by sectors of some governments, medico-pharmaceutical groups, "skeptic" organisations or those unfamiliar with homeopathy. Comments, references or links posted by others on this page may not reflect the opinion of Homeopathy Plus and so should not be seen as an endorsement or recommendation by Homeopathy Plus. Please see a trusted healthcare practitioner for advice on health problems. Further information about the purpose of our material may be read in our disclaimer.