A Letter from AIDS Clinics in Africa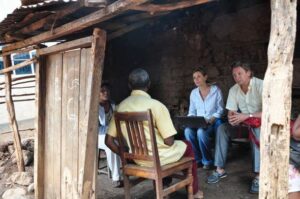 Camilla and Jeremy Sherr update us with what is happening in their AIDS clinics in Africa. They say:
"The successes have been tremendous. We are getting excellent results with AIDS patients using classical homoeopathy. We see impressive results with symptom improvement, CD4, weight, energy gain, and reducing side effects of ARV treatment. We have narrowed down a group of remedies suitable for AIDS in Africa, and have published several articles and lectured on these, so that what we have learnt can be used by others. We also treat many non-HIV patients. This month Camilla saw a blind Maasai woman who recovered her sight, a little boy in hospital with third degree burns living in a bed-cage, who was discharged soon after the remedy, and a woman with an inoperable abdominal tumour pronounced clear. Really amazing! If you want to see an example of the kind of case we see many times a day, have a look here. I think you will like it."
Read more and watch videos of their work at the following link. You can also be part of these efforts by making a donation.
More Information: A letter from Africa
Tags: africa, aids, camilla, classical, clinic, HIV, homeopathy, jeremy, sherr
---
If you liked the information on this page you may also enjoy our regular newsletter, full of information, news, discounts, and offers. Subscribe here.
Note: All information we provide and comments we make are from the homeopathic perspective. They are not necessarily endorsed by sectors of some governments, medico-pharmaceutical groups, "skeptic" organisations or those unfamiliar with homeopathy. Comments, references or links posted by others on this page may not reflect the opinion of Homeopathy Plus and so should not be seen as an endorsement or recommendation by Homeopathy Plus. Please see a trusted healthcare practitioner for advice on health problems. Further information about the purpose of our material may be read in our disclaimer.