Ainsworth Mother and Child Kit Instructions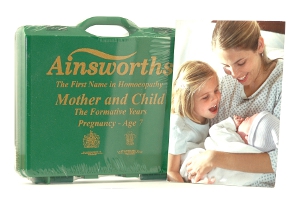 This sturdy kit is small enough to carry in your handbag, glovebox or travel bag, but versatile enough to deal with common problems that happen in the home or when travelling. It has been specifically designed to treat common problems associated with pregnancy, childbirth, and the first few years of life.
It comes with a 114-page booklet that contains clear and easy-to-follow instructions to help you find the right remedy quickly.
Contains 42 key remedies commonly used to treat: Anxiety, Arthritic and Rheumatic Pain, Bedwetting, Back Pain, Bites and Stings, Boils and Abscesses, Burns, Chickenpox, Childbirth-Inducing Childbirth, Childbirth/Breach Presentation, Childbirth-Prolonged and Difficult Childbirth, Childbirth-Caesarian Section, Childbirth-Postpartum, Childbirth-Postpartum Haemorrhage, Childbirth-Retain Placenta, Childbirth-Baby Blues, Childbirth-Breastfeeding, Lactation, and Mastitis, Circumcision, Clingy Babies and Children, Colds, Cold Sores, Colic, Constipation, Coughs, Cradle Cap, Cystitis, Diarrhoea, Earache and Glue Ear, Eye-Problems, Fevers, Grief, Hangover, Hay Fever, Headaches, Indigestion and Flatulence, Influenza, Injuries and Bruising, Itching and Nettle Rash, Joint Pains, Measles, Mumps, Nappy Rash, Nausea and Vomiting, Nosebleeds, Period Pains, Pregnancy Sickness, Pregnancy/Ligament Pain, Pregnancy/Threaten to Miscarriage, Sciatica, Shingles, Sinusitis and Catarrh, Sleep Problems & Nightmares, Sore Throat, Sprains and Strains, Teething, Thrush, Toothache, Travel Sickness and Jet Lag.
Remedies included in the kit: 1. Aconite 200c; 2. Antim Tart 30c; 3. Apis Mel 30c; 4. Arnica 200c; 5. Arsen Alb 30c; 6. Belladonna 200c; 7. Bellis Perennis 200c; 8. Calc Carb 30c; 9. Carbo Veg 30c; 10. Caulophyllum 200c; 11. Chamomilla 30c; 12. Cimicifuga 200c; 13. Cocculus 30c; 14. Colocynthis 30c; 15. Dioscorea 30c; 16. Drosera 30c; 17. Ferrum Phos 30c; 18. Gelsemium 30c; 19. Graphites 30c; 20. Hepar Sulph 30c; 21. Hypericum 200c; 22. Ignatia 200c; 23. Ipecac 30c; 24. Kali carb 200c; 25. Kali Phos 200c; 26. Lycopodium 30c; 27. Natrum Mur 200c; 28. Nux Vomica 30c; 29. Passiflora Co 30c; 30. Phosphorus 30c; 31. Pulsatilla 30c; 32. Phytollaca 200c; 33. Rhus Tox 30c; 34. Sabina 200c; 35. Secale 200c; 36. Sepia 30c; 37. Silica 30c; 38. Spongia 30c; 39. Staphisagria 30c; 40. Sulphur 30c; 41. Viburnum 200c; 42. Urtica 30
Tags: first, key, problems, remedies
---
If you liked the information on this page you may also enjoy our regular newsletter, full of information, news, discounts, and offers. Subscribe here.
$i;?>
No Comments
Comments are moderated and may take up to 24 hours to appear.
No comments yet.
Sorry, the comment form is closed at this time.