Avoid computer eye strain with homeopathy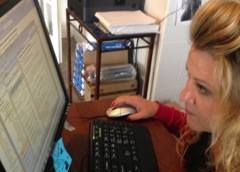 Ruta graveolens is a homeopathic remedy commonly used for eye-strain. Dr Edward Kondrot refers to it specifically in this interview – along six other simple measures to help with the problem. But that's not all Ruta does – it also reduces and treats shin nodules following bumps, and symptoms from sprained or overused tendons – even tendons of the eye.
For more homeopathic help for eye problems check out Dr Kondrot's website (see link at bottom of the article), listen to his radio programs and ask him a question or two. His answers may literally save your sight.
More Information:Avoid computer eye strain with homeopathy
Tags: eye, homeopathic, homeopathy, symptoms
---
If you liked the information on this page you may also enjoy our regular newsletter, full of information, news, discounts, and offers. Subscribe here.
Note: All information we provide and comments we make are from the homeopathic perspective. They are not necessarily endorsed by sectors of some governments, medico-pharmaceutical groups, "skeptic" organisations or those unfamiliar with homeopathy. Comments, references or links posted by others on this page may not reflect the opinion of Homeopathy Plus and so should not be seen as an endorsement or recommendation by Homeopathy Plus. Please see a trusted healthcare practitioner for advice on health problems. Further information about the purpose of our material may be read in our disclaimer.