Report says homeopathy treats birth disorders
HEADLINE: Homeopathy can treat birth disorders: study.
72% cured : 200 cases in Mumbai, Europe were studied for up to 7 yrs
We are still waiting for further information on this study reported by the Hindustan Times (June 2) but these sorts of improvements are frequently seen by homeopaths who work in the area of behavioural and learning difficulties, and autism spectrum disorders. Similar reports and stories from our clinic are available at: https://homeopathyplus.com/category/autism-2/
REPORT TRANSCRIPT (Note: We had to smile at the "asparagus syndrome" mentioned in the report. We're confident the journalist meant Aspergers syndrome.)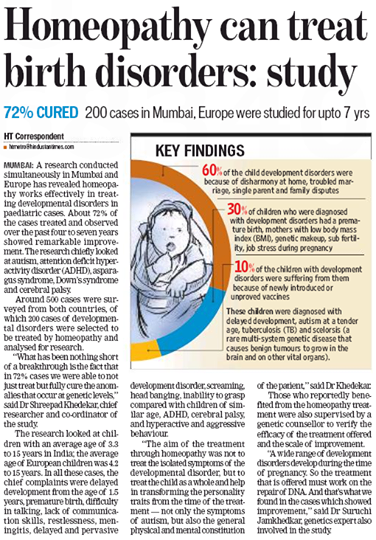 "MUMBAI: A research conducted simultaneously in Mumbai and Europe has revealed homeopathy works effectively in treating developmental disorders in paediatric cases. About 72% of the cases treated and observed over the past four to seven years showed remarkable improvement. The research chiefly looked at autism, attention deficit hyperactivity disorder (ADHD), asparagus syndrome, Down's syndrome and cerebral palsy.
"Around 500 cases were surveyed from both countries, of which 200 cases of developmental disorders were selected to be treated by homeopathy and analysed for research.
"What has been nothing short of a breakthrough is the fact that in 72% cases we were able to not just treat but fully cure the anomalies that occur at genetic levels," said Dr Shreepad Khedekar, chief researcher and co-ordinator of the study.
"The research looked at children with an average age of 3.3 to 15 years in India; the average age of European children was 4.2 to 15 years. In all these cases, the chief complaints were delayed development from the age of 1.5 years, premature birth, difficulty in talking, lack of communication skills, restlessness, meningitis, delayed and pervasive development disorder, screaming, head banging, inability to grasp compared with children of similar age, ADHD, cerebral palsy, and hyperactive and aggressive behaviour.
"The aim of the treatment through homeopathy was not to treat the isolated symptoms of the developmental disorder, but to treat the child as a whole and help in transforming the personality traits from the time of the treatment — not only the symptoms of autism, but also the general physical and mental constitution of the patient," said Dr Khedekar.
"Those who reportedly benefited from the homeopathy treatment were also supervised by a genetic counsellor to verify the efficacy of the treatment offered and the scale of improvement.
"A wide range of development disorders develop during the time of pregnancy. So the treatment that is offered must work on the repair of DNA. And that's what we found in the cases which showed improvement," said Dr Suruchi Jamkhedkar, genetics expert also involved in the study."
Tags: HEADLINE, homeopathy, treat, treatment
---
If you liked the information on this page you may also enjoy our regular newsletter, full of information, news, discounts, and offers. Subscribe here.
$i;?>
No Comments
Comments are moderated and may take up to 24 hours to appear.
No comments yet.
Sorry, the comment form is closed at this time.