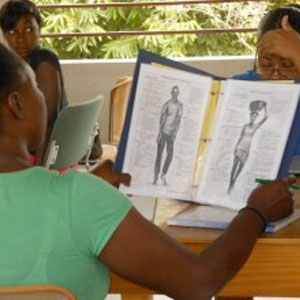 Holly Manoogian of Homeopathy Without Borders (HWB), in the latest report from Haiti, says:
"We know there are only approximately .25 physicians per 1,000 people serving Haiti's population of approximately 9.7 million people (US has 2.42 physicians per 1,000). We know that only 26 percent of births are attended by a skilled health professional. This lack of trained health professionals in Haiti has ramifications. We know that homeopathy can provide some options.
"We also know, that of those Haitians who can get to a clinic and pay for a consultation, many of them leave without the prescribed medications. When a visit to the doctor's office can cost between 100 goudes – 500 goudes ($2.50 – $12.50), many of them just cannot afford the prescribed medications. We know that homeopathy can be a solution."
In the face of these onerous facts she reveals the progress made by Haitians and their supporters in introducing homeopathy to their country to combat these problems, and their plans for the future. While reading the latest information please consider joining us in making a donation to HWB in Haiti – it brings real help.
More Information: Homeopathy in Haiti