October is "Launch Month" for our new website and each week we are running a competition so you can help us celebrate.
This week's competition is all about your pet!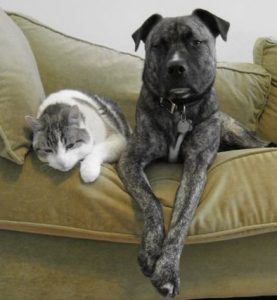 Submit a photo of one or more of your animal companions, no matter how scruffy or cute, for the chance to win either a Cat Prophylaxis Kit OR a Dog Prophylaxis Kit, plus either a Homeopathy for Cats book OR a Homeopathy for Dogs book (prize valued at $141.95 AUD).
While you're at it, tell us a little about your pet – a funny story, the reason why they are so lovable, or … surprise us! (50 word limit).
Photos and stories will be placed on this page, and each one will go into the draw to win a prophylaxis (immunisation) kit for either a dog or cat plus a book on treating the respective animal.
(If the winner doesn't own a cat or a dog, we will arrange an alternate prize of equal value that will be more suited to winner or their pet.)
The competition runs until midnight, Wednesday 24th, October and the winner will be advised by email on Friday, 26th October. So, take a snap of your favourite animal companion, share it with us, and enter the draw!
Harvey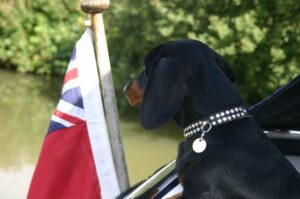 hi.. My pet Harvey .. he is an adorable Dachund . He is well behaved, But loves to lick EVERYONE'S FEET when they visit. He is Black and Tan… 2 1/2 yrs old now… He loves his Homeopathic Remedies and will take them willingly when offered… when he ate to much food, (upset tummy!) I gave him New Era Tissue Salts Indigestion Colicky Pains and Flatuance… IT WORKS A TREAT .. on me too!!!
Milo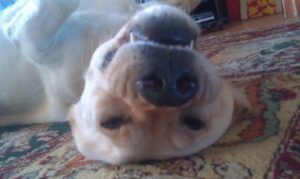 Milo is a very big, lovable, floppy puppy who loves to eat pretty much anything. He loves to go for walks, although he doesn't quite get the idea of not walking around you so that you get tangled up in the leash. He's always around, he's good tempered and makes a brilliant pillow.
Buddy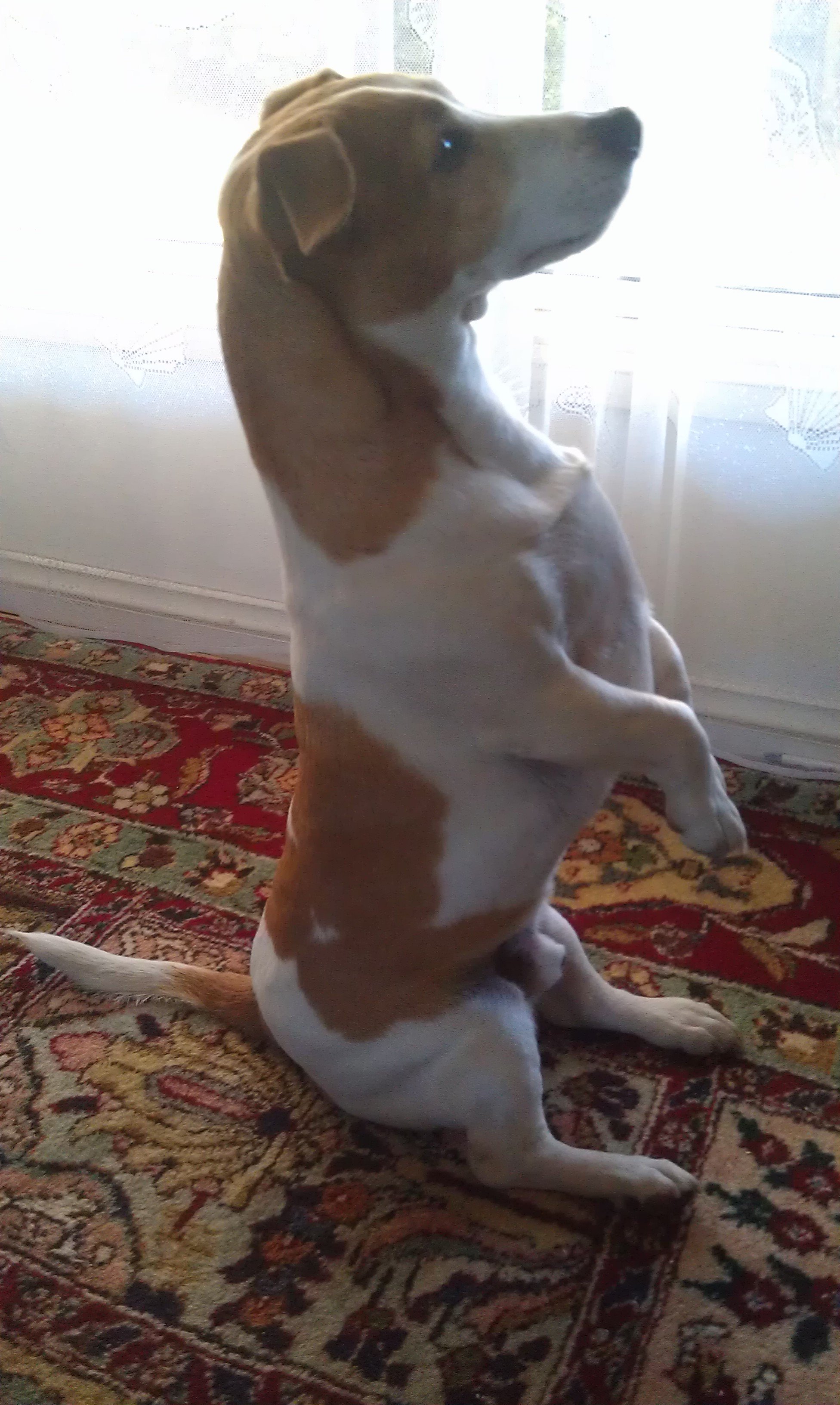 We inherited Buddy off a friend because they couldn't look after him anymore. He loves walks, food, and lying under any blankets he can find, especially if you're under it with him. Even at night he has his own adult size sleeping bag which he clambers into so that he can lie at the very bottom. Whenever there is food that he's not getting, he sits up on his backside and begs and whines, holding the position until he gives up and tries the next person. He loves running alongside the pool and barking whenever someone ducks under, although he doesn't particularly enjoy missing his footing and falling in, even though he can swim.
Joreen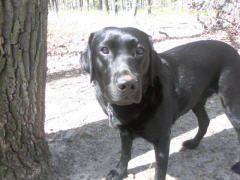 My son Nick has autism,when I was offered chance to adopt I did not know what type of dog I would recieve it turns out she was the dog we first saw at a special needs basketball practice 6 months before. She is so sweet, happy and loveable.
Bella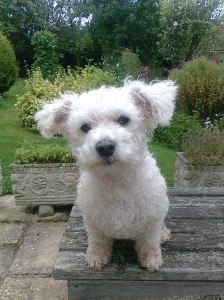 Bella the Bichon came to live with us a couple of years ago. Very stressed, she'd really chomped herself and was a very sad little soul. Fast forward to the present day to find a slightly scruffy country girl, full of the joys of life. The secret? Love and homeopathy!
Sparky

Sparky is full of life, almost 7 years old Schnauzer/Maltese cross. He is strong willed, loving, king of the castle and my best friend. He loves to bark at German Shepard. He gets a bit nervous when things are out of his routine. He is quite a feeling dog.
Relampago
He rescued us– from doglessness! Really! He followed hubby home from the beach. He was a mess at that time but with homeopathy, herbs and natural diet, he's now the handsomest doggie around. He used to cock his head like this at new experiences but now he thinks he knows everything!
Mau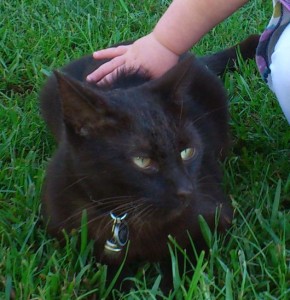 Mau and Serena are best friends, both have only ever had homeopathic medicines! No panadol or exelpet flea treatments here 🙂
Chilli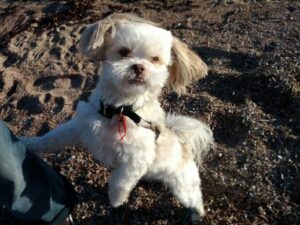 Chilli was born at my house 20th Oct. 6years ago, his brother was dead, as the mother layed on him while giving birth to the other puppies. Chilli was also gasping for breathe when I found him. I wet his mouth & lips with My Dog Tonic, all homeopathy, & prescribed to a dogs biochemistry, including their immunisations/vaccinations. He came good & although still to this day, you can tell his respiratory is weakened, however, still strong. Then the girl who owned the puppies, sold him to a massuer that worked for me, & when he came for visits, he would cower & be very anxious. So I mentioned it to her & she said her stepson that doesn't like her or her son, abuses him, & terrorises him. So I said I will take him for a while & make him better & strong & I got so attached to him, I couldn't give him back…I always had shepherds, never a little dog, but hey I love him with all my heart, & the best part is , he is so friendly, although he really still thinks he is a shepherd, Kleo, my shepherd, who has passed away now taught him…lol…
Elias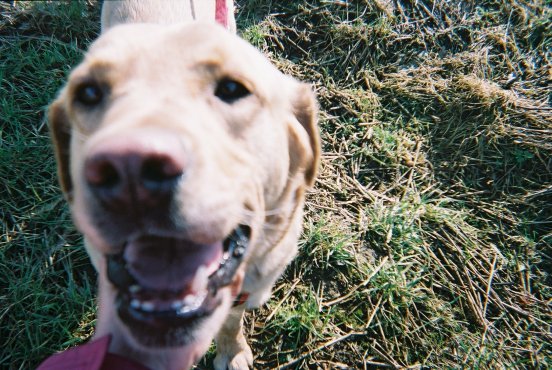 Elias is a happy golden Labrador who is a rescue dog. I think that he has rescued me more than i have him! When i first got him he was so thin, and really afraid, and was never naughty at all. He didn't play and was very sad. If you threw a ball for him he just watched it roll, and made no attempt to catch it.
I'm pleased to say that with various remedies and a lot of loving, he has 'recovered his inner dog' and is now a happy, healthy boy who is not afraid to be 'naughty'… just found a frozen chicken which whilst i was out i left defrosting on the side was was dragged to his bed and hidden under the blanket for safekeeping…. see what you think of my lovely boy!
Coonini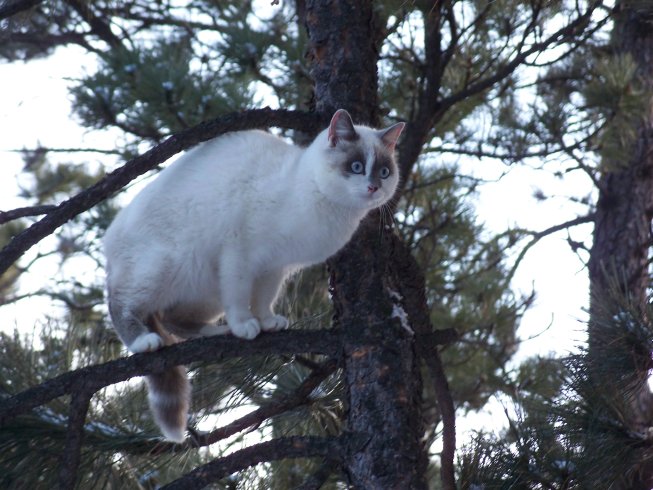 "Look, Ma! I'm a raccoon!" Reminding us of a raccoon when this little stray adopted us, we named her Coony, thinking she was a boy. The next year, her tummy began to grow, she gave us three cute little balls of cheer, and became Coonini.
Symba and Saxon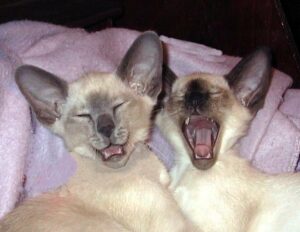 Twin Siamese brothers Symba and Saxon are mischievous and full of energy. Born Christmas Day 7 Years ago, they have personality plus. Inquisitive, Demanding and in your face kinda cats. They are no strangers to Tissue Salt remedies. They're on a natural diet but like the odd tinned treat.
Bella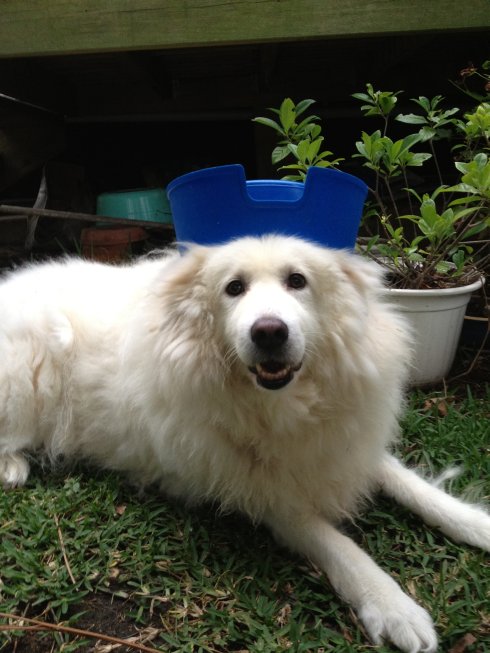 Bella is an Italian Marrema Sheepdog, and 12 years young! Here she is wearing her jaunty blue water bowl, she likes wearing different hats! Bella loves and protects our two bantam hens, and always warns us with her hearty barks if a stray pigeon or minor bird has landed in or near our backyard. Bella loves homeopathy too, especially Ruta Grav for her arthritis problems.
Tags: animal, dog, homeopathy, little
---
If you liked the information on this page you may also enjoy our regular newsletter, full of information, news, discounts, and offers. Subscribe here.
$i;?>
No Comments
Comments are moderated and may take up to 24 hours to appear.
No comments yet.
Sorry, the comment form is closed at this time.