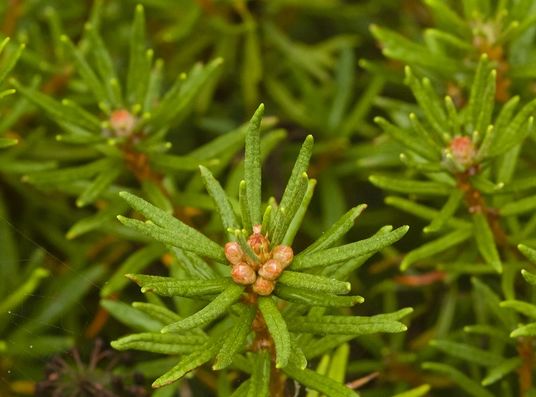 Ledum Palustre, also known as Marsh Tea or Wild Rosemary, is a flowering evergreen shrub that grows to a height of 1 metre. Past uses have been in beer brewing, treatment of puncture wounds, and as a moth deterrent.
Homeopathically, Ledum is used for insect bites, puncture wounds, and cold swellings or bruises which feel much better for ice-cold applications. Chronic complaints such as rheumatism and gout start in the feet and lower limbs first, moving up the body. They also improve with ice-cold applications. Ankles sprain easily. The person may be cross and surly.
Common Uses
When the remedy matches the symptom profile, Ledum has the ability to treat conditions such as alcoholism, bites and stings, cold bruising, elephantiasis, gout, purpura,rheumatism, sprains, wounds.
From the Old Masters
Nash says:
Rheumatism begins in feet and travels upward (Kalmia opposite).
The swellings are pale, sometimes œdematous, and < at night, in the heat of the bed; uncovering or cold water relieves.
Ecchymosis; "black eye" from a blow or contusion; better than Arnica.
Rheumatism and rheumatic gout; joints become the seat of nodosities and "gout stones," which are painful.
Complaints of people who are cold all the time; lack of animal or vital heat; parts cold to touch, but not cold subjectively to patient.
Punctured wounds by sharp-pointed instruments, rat bites, stings of insects, especially mosquitoes.
Hering says:
MIND
Desire for solitude.

After nightmare, fears to go to sleep, lest she die.

Inclined to be out of humor and angry ; vehement.

Dissatisfied ; hates his fellow-beings.
SENSATIONS
Numbness and formication of the limbs.
TISSUES
Emaciation of suffering parts.

Œdematous swellings of the whole body.
STAGES AND STATES
Pale, delicate women, who are always cold.
Lippe says:
MIND AND DISPOSITION
Inclines to be out of humor and angry.

Vehement, angry mood ; vehemence.

Dissatisfied ; hates his fellow-beings.

Desire for solitude.
GENERALITIES
Gouty, rheumatic pains in the joints, aggravated by the heat of the bed and in the evening till midnight.

Tense, hard swelling of the affected joints.

Emaciation of the affected parts.

Painful (gouty) nodosities on the joints.
CONDITIONS
Can not bear the heat of the bed, on account of the burning and heat of the limbs.

Heat aggravates.

Motion aggravates only the pains in the joints.

The rheumatic pains in the lower limbs and ascend.

Bad effects from alcoholic drinks.
Sources
Textbook of Materia Medica by Adolph Lippe M.D. 1886 Publishers: AJ.Tafel
Constantine Hering. 1877. Condensed Materia Medica. Publishers: Boericke and Tafel
E. B. NASH. 1899 Leaders In Homoeopathic Therapeutics. Publishers: Boericke and Tafel