Basic 18-Remedy Childbirth Kit
Description
Types of Complaints
Each Basic 18-Remedy Kit comes with a compact prescriber booklet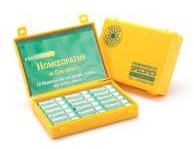 which suggests suitable remedies for complaints before, during, and after childbirth including: After-pains; Anxiety; Apathy; Back pain; Bladder; Bleeding; Bruising; Caesarean and wound recovery; Cracked nipples; Exhaustion; Failure to dilate; Fear; Flu; Headache; Insomnia; Irregular contractions;  Malposition; Nausea; Nerve pain; Panic; Premature labour; Restlessness; Sciatica;  Shock; Soreness; Weepiness, and more.
18 Traditional Remedies
Remedies included, all in 200C potencies:
1. Aconite napellus (Acon.); 2. Arnica montana (Arn.); 3. Bellis perennis (Bell-p.); 4. Calendula officinalis (Calen.); 5. Carbo vegetabilis (Carb-v.); 6. Caulophyllum thalictroides (Caul.); 7. Chamomilla (Cham.); 8. Cimicifuga racemosa (Cimic.); 9. Gelsemium sempervirens (Gels.); 10. Hypericum perforatum (Hyper.); 11. Ipecacuanha (Ipec.); 12. Kalium carbonicum (Kali-c.); 13. Kalium phosphoricum (Kali-p.); 14. Phytolacca decandra (Phyt.); 15. Pulsatilla pratensis (Puls.); 16. Secale cornutum (Sec.); 17. Sepia officinalis (Sep.); 18. Staphisagria (Staph.).
(Remedies in  200C potencies. Approx 35 doses per remedy).
Additional information
| | |
| --- | --- |
| Weight | 0.350 kg |
| Dimensions | 15 × 10 × 5 cm |
---
If you liked the information on this page you may also enjoy our regular newsletter, full of information, news, discounts, and offers. Subscribe here.
Note: All information we provide and comments we make are from the homeopathic perspective. They are not necessarily endorsed by sectors of some governments, medico-pharmaceutical groups, "skeptic" organisations or those unfamiliar with homeopathy. Comments, references or links posted by others on this page may not reflect the opinion of Homeopathy Plus and so should not be seen as an endorsement or recommendation by Homeopathy Plus. Please see a trusted healthcare practitioner for advice on health problems. Further information about the purpose of our material may be read in our disclaimer.