Description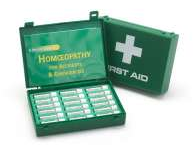 This strong, lightweight and compact kit is a handy and inexpensive addition to your home medicine cabinet, handbag, glovebox or travel bag. It's designed for simple first-aid problems and more serious emergencies when the first responder is waiting for further help.
Each kit also comes with a handy prescriber booklet to help you choose the best remedy for simple home-help conditions and symptoms, or while waiting for medical assistance. They include: Abdominal pain; Allergic reactions; Bleeding; Bites and Stings; Fractures; Bruises; Burns; Chest pain; Choking; Collapse; Concussion; Diarrhoea and Vomiting; Near drowning; Emergency childbirth or Miscarriage; Chilling and Hypothermia; Fainting; Fever; Headache; Heat stroke; Injuries and Wounds; Poisoning; Shock and Distress; Splinters and Foreign bodies; Sprains and Strains; Sunburn; Stroke; Whiplash; and more.
The kit contains 18 homeopathic remedies traditionally used in first-aid and emergency situations: 1. Aconite napellus (Acon.) 200C; 2. Apis mellifica (Apis.) 200C; 3. Arnica montana (Arn.) 200C; 4. Arsenicum album (Ars.) 200C; 5. Belladonna (Bell.) 200C; 6. Bellis perennis (Bell-p.) 200C; 7. Bryonia alba (Bry.) 200C; 8. Calendula officinalis (Calen.) 200C; 9. Cantharis vesicatoria (Canth.) 200C; 10. Carbo vegetabilis (Carb-v.) 200C; 11. China officinalis (Chin.) 200C; 12. Gelsemium sempervirens (Gels.) 200C; 13. Hypericum perforatum (Hyper.) 200C; 14. Ignatia amara (Ign.) 200C; 15. Ipecacuanha (Ip.) 200C; 16. Phosphorus (Phos.) 200C; 17. Pulsatilla pratensis (Puls.) 200C; 18. Silicea Terra (Sil) 200C. (all in 200C potencies with approx. 35 doses per remedy).
All remedies are suitable for use from infancy to old age, and during pregnancy.