Know Your Remedies: Eupatorium Perfoliatum (Eup-per.)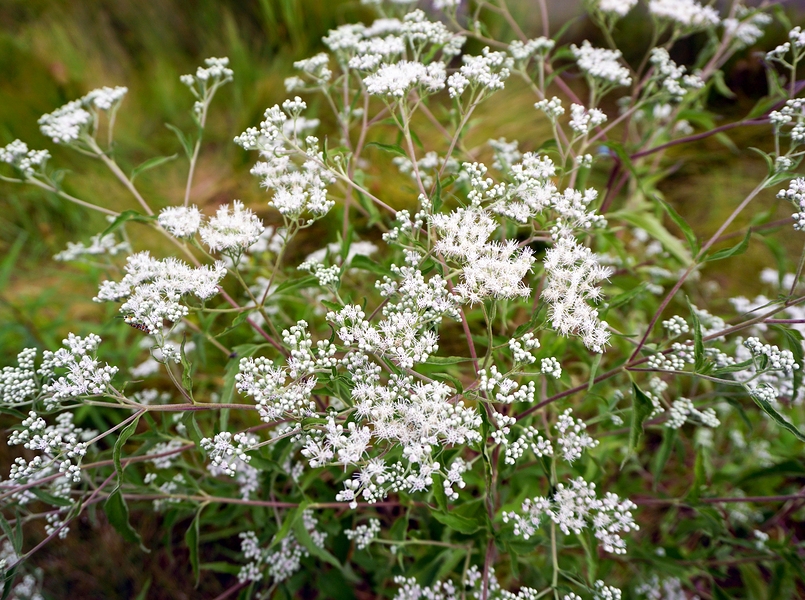 Common Names: Common boneset; agueweed; feverwort.
General Information
The need for Eupatorium Perfoliatum (Eup-per.) is easily recognised by its symptom of intense pains in the bones – "as if the bones are broken". This one symptom alone has led to its successful use during cases of malaria, influenza and fever. Eup-per. was the main remedy needed during the 1918 flu pandemic and has been consistently used for influenza ever since when its keynote symptom was present.
Typically, the person will be very restless with the pains but motion won't relieve the soreness. They'll feel worse in cold air and fevers may recur at regular intervals (as with malaria).
Eup-per. has also been successfully used for pain associated with true fractures or when there is a history of malaria.
Fever and Chill
Extremely thirsty for cold drinks, especially during the chill or rigor (shuddering) of fevers.
Chill that begins in the small of back.
Scanty or no perspiration during fever.
Respiratory
Must hold chest during cough to control the soreness.
Back
Intense or excruciating back ache – "as if the back is broken" – especially during fever.
Chill beginning in small of back.
Musculoskeletal
Bone pains with sore muscles, especially during fever.
Pain as if bones are broken, especially during fever but also when a true fracture is present.
Gastrointestinal
Very thirsty during the chill.
Desire for cold drinks and ice cream.
Where do I find it?
Eupertorium Perfoliatum (Eup-per.) is available from our online store as a single remedy in either pills or liquid, and as part of the following Complexes (combination remedies): Fractures (Broken Bones); Winter Defence.
Important
While above self-limiting or acute complaints are suitable for home treatment, also contact your healthcare provider during emergency situations or if symptoms worsen or fail to improve. Chronic or persistent complaints, which may or may not be mentioned above, require a different treatment and dosage protocol so are best managed by a qualified homeopath for good results.
Dosage Instructions (suitable for babies to adults)
For acute and self-limiting complaints, take one pill or five drops of the remedy every 15 minutes to 4 hours (as often as every 15 minutes for intense symptoms or once every 4 hours for milder ones). Once an improvement is noticed, stop dosing and repeat the remedy only if symptoms return. If there is no improvement at all by three doses, choose a different remedy or seek professional guidance. Chronic symptoms or complaints require a course of professional treatment to manage the changes in potencies and remedies that will be required.
More Information
Guidelines on which potency to use
---
If you liked the information on this page you may also enjoy our regular newsletter, full of information, news, discounts, and offers. Subscribe here.
$i;?>
No Comments
Comments are moderated and may take up to 24 hours to appear.
No comments yet.
Sorry, the comment form is closed at this time.