Update: On publishing information about the missing article, it was recovered and replicated across the internet. Information on the latest treatment by these two doctors can also be read at: Update of the prior study of Homeopathy for Coronavirus Covid-19 Infection in Iran by Dr. Aditya Kasariyans and Dr. Rajan Sankaran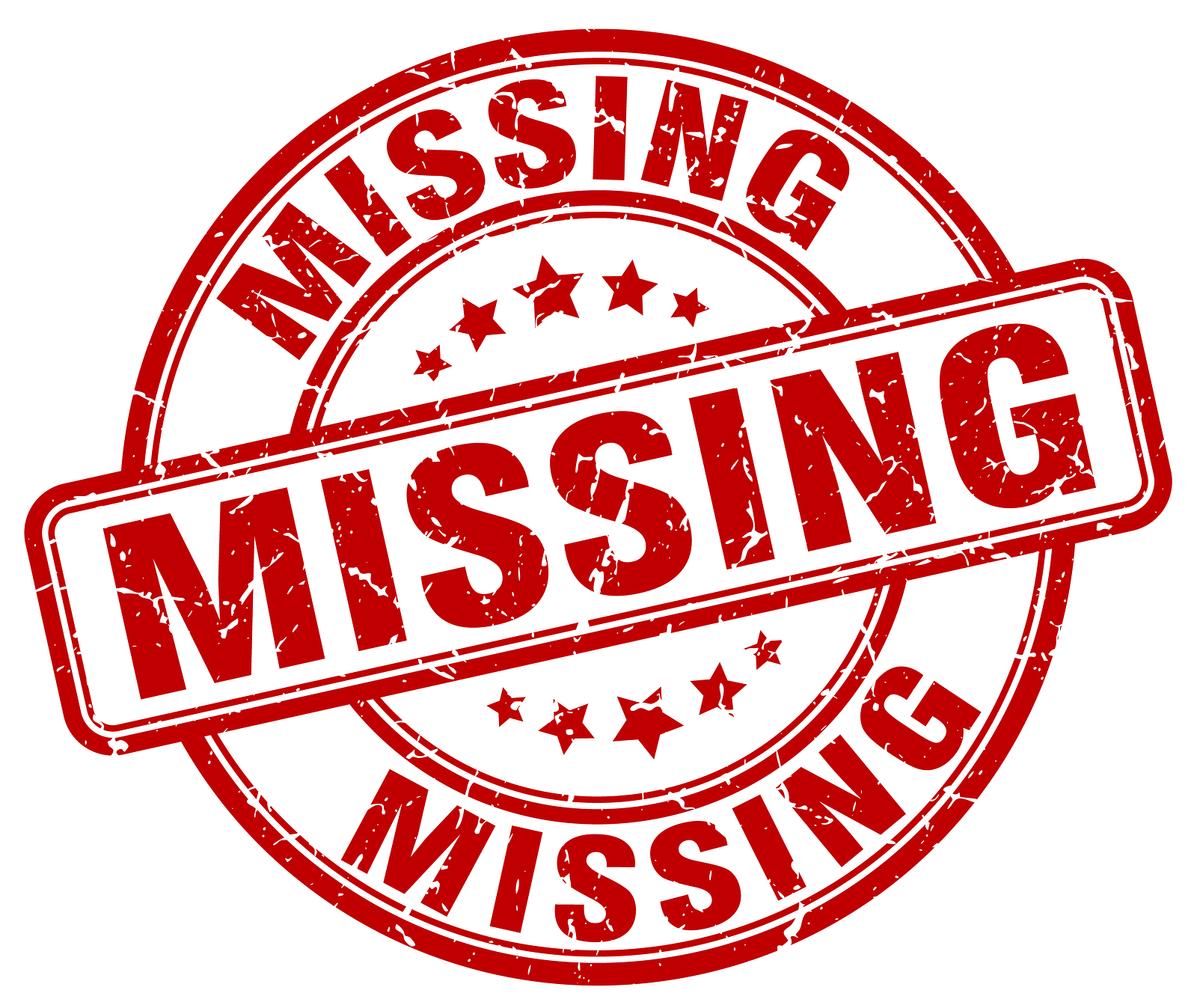 Late last night (Sunday, 15th March, 2020) I was sent an email with a link to a document which contained treatment reports and a remedy recommendation for COVID-19, the disease caused by the new coronavirus SARS-CoV-2.
The following is a screen capture of that email.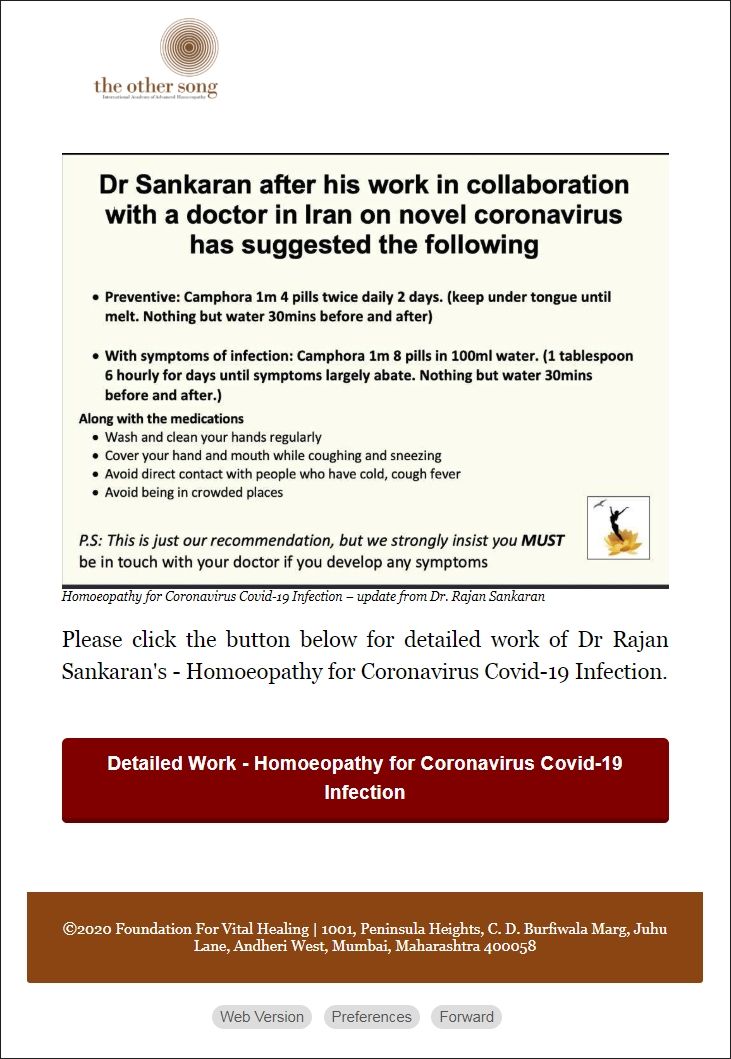 Last night, I was able to click on the link in the above email and read the document in full. Not so, this morning.
On clicking to read it again, this is what I was shown.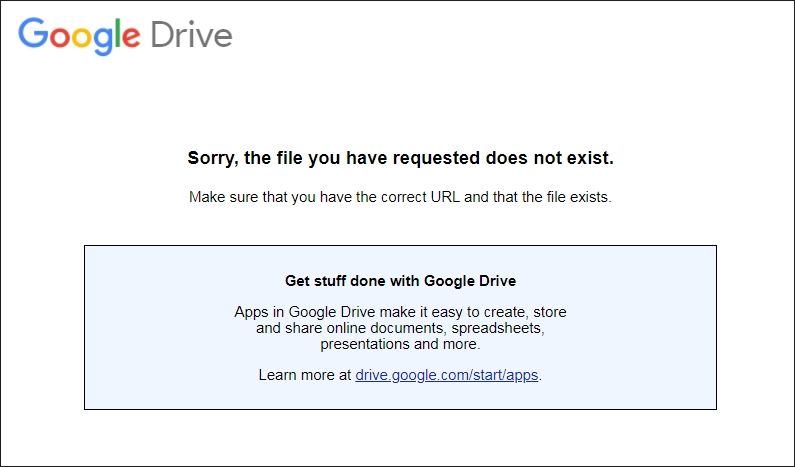 A search around the internet also failed to find any trace of this particular document. This was unusual.
It was as if it had been fully scrubbed from the internet during the hours I, and others, slept.
For this reason, you may wish to capture this article and share it with others in case it too, quickly disappears.
The following is what I remember reading in the document.
Case reports with symptoms were collected by an Iranian doctor working with diagnosed COVID-19 patients in Iran.
Those cases reports were sent to an Indian homeopathic doctor, Dr Rajan Sankaran, who, based on the symptoms provided, suggested the homeopathic remedy Camphora as a treatment remedy.
If my memory serves me correctly, about 50 cases (correction: 40) were involved. Information from approximately 8 of the cases – their symptoms and treatment responses – were provided in detail in the document.
Those given the remedy recovered much more quickly than expected from their exhaustion and collapse. Some were able to return to work within the week.
As a result, and evidenced by the screen capture from the email I received, the document recommended Camphora (M potency) as a treatment and preventative for COVID-19 infections.
Of particular interest to me, 4 of the cases presented also complained of bitterness in the mouth similar to what was recorded it the case from China I took: Case 3: COVID-19 in a 38-Year-Old Female
As stated earlier in this article, it is as if the information from this document has been scrubbed from the internet. If anyone finds it, or the information it contained, we would be happy to hear from you.
(Update: One sharp-eyed homeopathic student (from Hong Kong, I believe) was clever enough to save the document when first seen. He has forwarded it for all to read: Homeopathy for Coronavirus Covid-19 Infection: Dr Aditya Kasariyans and Dr Rajan Sankaran)
Earlier, one contact forwarded partial information I recognise from that document. It was found as a comment on the ABC Homeopathy forum. (You will have to scroll through the comments on ABC to find it.)
I have captured and placed here in case it too, disappears.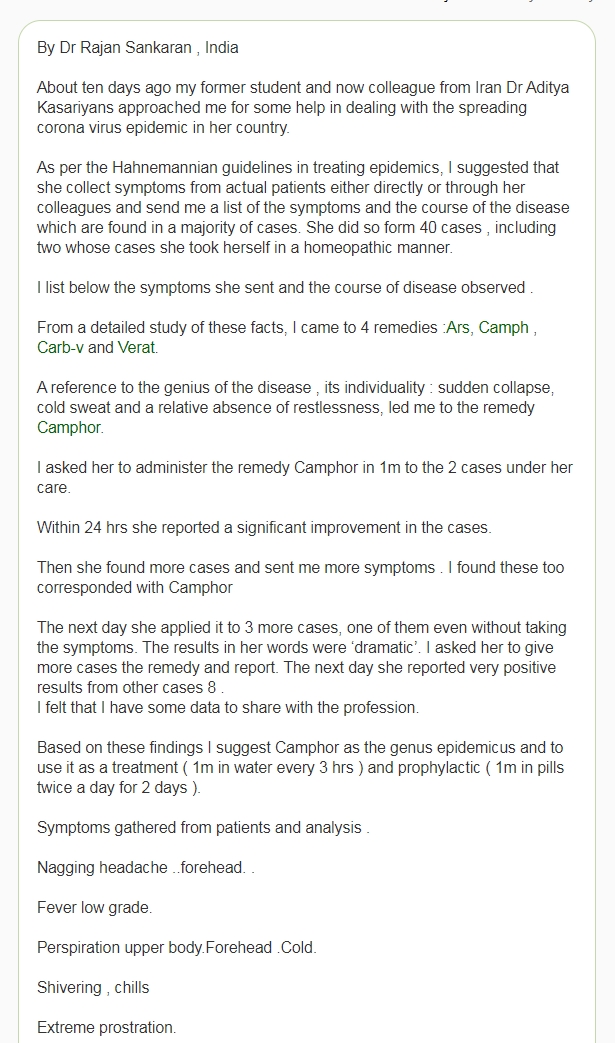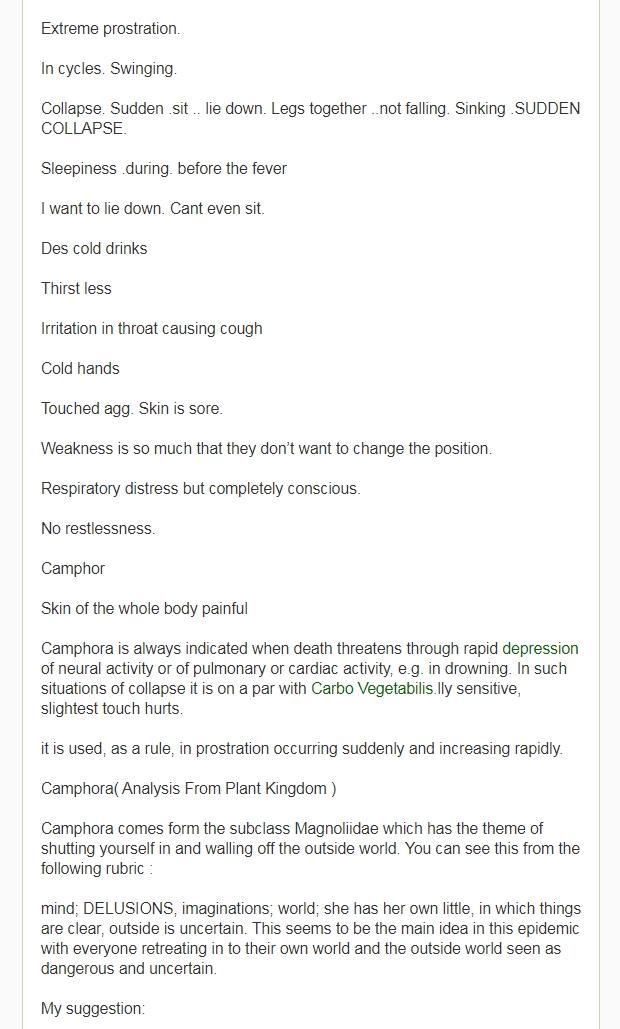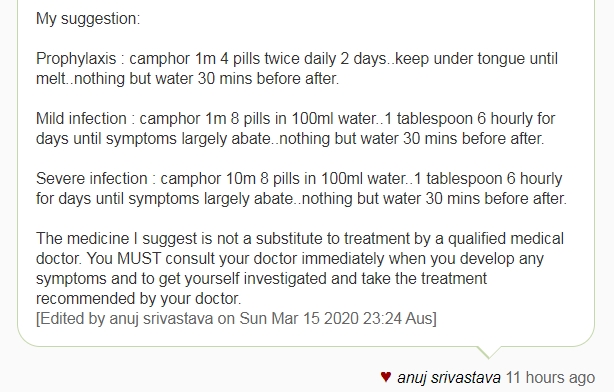 If this information is correct, will Camphora be the only treatment and prophylactic for this pandemic?
No. Based on homeopathic experiences in past epidemics and pandemics, it will be one of several.
This is because each epidemic produces a group of symptoms that that arise in most people and align with one key remedy – and that remedy may be Camphora in this instance – while subsets of symptoms that relate better to other remedies, arise in smaller groups.
As homeopaths gain greater access to cases for treatment and management, which remedies these might be will become clearer.
Please feel free to capture this article and share it with others in case it too, disappears.
Author: Fran Sheffield (16.03.20)
Related Information